Sometimes we all need a little extra encouragement. If you're looking to incentivize your people, here are some great employee bonus ideas you can implement for your organization.
Table of Contents
Why Companies Offer Employee Bonuses
The Benefits of Offering Employee Bonuses
What Makes an Effective Bonus?
15 Creative Employee Bonus Ideas
Why do your people do what they do?
Do they love their jobs? Are they striving to climb the career ladder? Are they in it for the paycheck? Or is their motivation altogether more altruistic?
People work in different ways, but no matter what motivates them to perform at their best there's one thing that we all have in common - sometimes we need a little extra encouragement.
And that's where bonuses come in.
What are Employee Bonuses?
Employee bonuses are nothing new, indeed for generations, bosses have been using employee incentives in order to motivate their employees and encourage them to perform at their best.
The concept is pretty simple. Unlike their salary, an employee bonus is a form of compensation that is not guaranteed, instead, it is usually paid after the completion of a certain event or milestone.
The most common kind of bonus is performance-based, wherein the employee is rewarded based on their contribution to the company's overall goals. But there are other types of bonuses that companies award too, they include:
Discretionary bonus
This kind of bonus is awarded at the discretion of the employer rather than being something that employees expect to receive based on their performance. The bonus can be for any amount and paid at any time. And since it's not written as part of their contract employees can only hope to receive the award rather than expect it.
Annual bonus
These bonuses are tied to the overall performance of a company throughout the course of a year. Sometimes known as a "profit share" the size of the bonus varies depending on how successful (or not) the company has been. Typically the reason why organizations award these bonuses annually is as a retention tool - because employees will typically stick around longer in order to receive their bonus.
Spot bonus
Spot bonuses are usually used for exceptional circumstances or performances. Maybe an employee has truly gone above and beyond to deliver success, maybe they invested extra hours to turn around a special project, or played an integral role in a company achievement. They are normally one-time offerings delivered at the management team's discretion.
Retention bonus
If your organization is worried about holding onto your best talent you may want to offer a retention bonus. These are awarded to employees who stick around for a certain period of time and are typically offered as part of a merger, acquisition or restructuring when people may start to consider offers from elsewhere.
Referral bonus
Many employers know that their best advocates are the people who work for them. That's why they may decide to offer referral bonuses to current employees who refer great candidates for open roles. Similarly to retention bonuses these are typically not paid out until the new employee has worked at the company for a certain amount of time.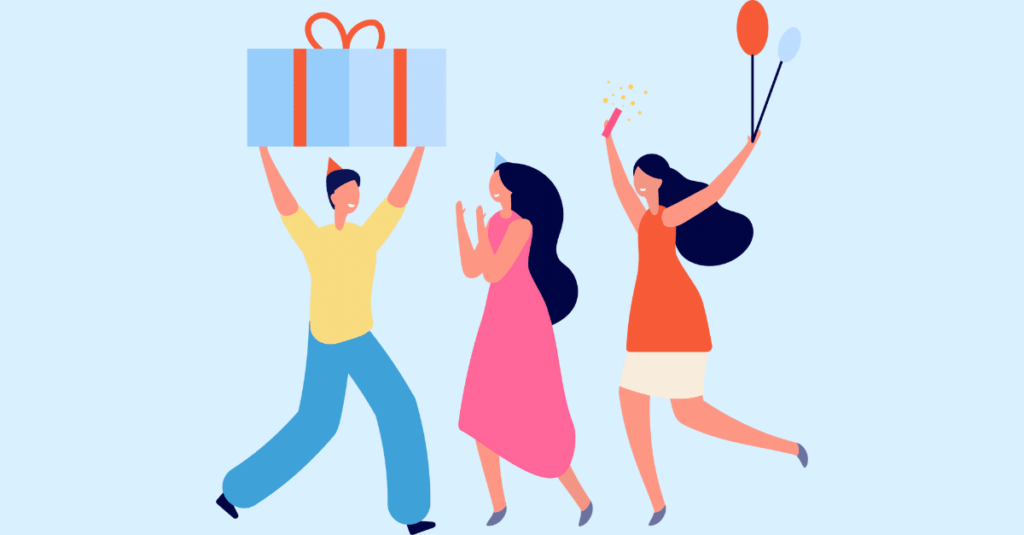 Holiday bonus
Typically offered around Christmas, holiday bonuses are a way of recognizing employees for a hard year's work. Offered either as a set amount or a percentage of salary, they are often appreciated by employees as they provide an extra financial boost during an especially expensive period of the calendar year.
Commission
Somewhat similar to bonuses are commissions. Like bonuses, they are not a form of guaranteed compensation but are instead earned through certain actions whether they are sales, referrals or through meeting targets.
Why Companies Offer Employee Bonuses
Sometimes companies offer their employees bonuses because it is the expectation within the market. Sales roles, for example, have long included some kind of bonus or incentive structure within their compensation packages. So today it's more unusual to see a sales role without a bonus structure than one with one.
Organizations also offer bonuses as a way of attracting and retaining the very best talent. In today's increasingly competitive workplace where employers need to work harder than ever to stand out from the crowd, a bonus can be a useful carrot to encourage potential candidates to choose your organization over your competition.
It's also a tactic that's used by employers who want to hire people that they know are going to perform from day one on the job. So offering a reward for output means that you're going to attract a certain kind of person to the role.
Above all, however, the main reason that employers offer bonuses is because they want to encourage their employees to work as hard as possible to help the company succeed. Put simply, the offer that's extended to employees is that "if we do well, you do well" - an idea of shared success that should drive your people to perform to their best, rather than just clock in and clock out.
But the reverse is also true. That's because employees whose compensation is linked to company performance also take on a share of the risk, knowing that if the company performs poorly they will pay the price.
Companies use this tactic because it works.
People who know they can earn a bonus by increasing revenue, boosting productivity or delivering objectives are going to be far more motivated to achieve their aims. They will be more engaged in their work, more motivated to come in and perform their best and more likely to stay in their roles for longer.
By the Numbers - The Impact of Employee Bonuses
Employees who receive rewards on a regular basis are 8x more engaged than those receiving annual compensation or increases. Deloitte.
65% of employees prefer bonuses based on personal performance. Payscale
Companies that use incentive programs report an average increase in productivity of 22%. Incentive Research Foundation.
Companies that use incentives to reward employees for meeting specific goals or targets see an average increase in revenue of 44%. Harvard Business Review.
The most common types of employee bonuses include cash (73%), gift cards or certificates (55%), and time off (51%). Human Resource Management.
The Benefits of Offering Employee Bonuses
If you're thinking about offering bonuses for your employees you probably want to know what benefits you're going to see in return for your investment. The good news is that bonuses can have a key impact on everything from employee retention to productivity. That's partly due to the incentive that they offer people to perform at their best, but bonuses are also effective because they tap into our inherent need for rewards and recognition.
Here comes the science bit…
It's the psychology behind employee rewards and recognition that make bonuses so effective. You see, we're all hardwired to respond to recognition. It's a basic human need. One that causes a physiological reaction that releases dopamine into our brains. Dopamine, for those of you who don't have a textbook handy, is often called the "happy hormone" because of the fact that it stimulates the parts of the brain that creates positive emotions like satisfaction and enjoyment. 
In the workplace, this sense of positivity doesn't just make employees happier. It's also been shown to have a strong influence on financial success by increasing productivity, promoting innovation and lowering absenteeism. 
The bottom line is that rewards and recognition programs can boost just about every aspect of an organization.
How Employee Bonuses Could Impact Your Organization

🚀 Boost morale

📈 Increase productivity

⬇️ Reduce turnover

🤝 Aid recruitment

😊 Elevate engagement

🫶 Support team building
What Makes an Effective Bonus? 
Employee bonuses are clearly a valuable tool that can have a big impact on your people. But what makes a good bonus?
The first thing we think of in terms of bonuses is some kind of financial incentive. Money has long been the go-to when it comes to employee bonuses and there's no doubt that people can be motivated by dollars and cents. A financial incentive is easy to manage and easy for your employees to understand, making it ideal for bonuses.
But does it actually motivate people to succeed? Perhaps not.
They say that cash is king, but Google, the tech giant that's regularly recognized as one of the world's best places to work, have found that money alone doesn't motivate staff. In fact, the company discovered that cash incentives actually made people less happy while rewards like gifts or experiences were far more effective at motivating its people.

"No matter if you opt for a cash incentive or something altogether more creative, the key to any effective bonus is to offer your employees something meaningful."
So when it comes to bonuses why not think beyond cold hard cash to instead offer them something they'll truly remember?
After all, everyone is different. Some people might be motivated by cash incentives, others by time off. Some people like cool swag, or they're wine lovers, maybe they're interested in unique experiences. Because everyone is motivated by different things, there are so many options for you to choose from when it comes to bonuses, which means you can be as creative as you want to be.
One of our favorite examples comes from one of our clients, who runs a regular competition where a top performer can win the chance to have the company CEO come and wash their car for them. It's an example of the kind of out-of-the-box thinking that can create truly memorable bonuses.
No matter if you opt for a cash incentive or something altogether more creative, the key to any effective bonus is to offer your employees something meaningful. You want the reward to be something they actually want, something they will aspire to and work towards. And the best way to ensure your bonuses hit the mark is simply to ask your people what they want.
You can do this conversationally or through a survey, but once you've gathered the information you can create incredibly impactful moments and bonus opportunities to reward and recognize your team. This is key to remember when deciding which employee bonus ideas you want to offer at your organization.
15 Creative Employee Bonus Ideas
Beyond the usual cash rewards, what are some creative employee bonus ideas that you can use to incentivize your people?
From personalized gifts to team outings, here are 15 employee bonus ideas that you can implement today.
1. Name something after them
 There's a certain honour to having something named after you - if you don't believe us, just look at the number of iconic buildings that have been named after famous explorers, inventors and philanthropists. Now we're not suggesting you name your office HQ after your top-performing people, but this is a bonus that you can deliver on a smaller scale. Maybe you have a Hall of Fame where employees who hit their targets can be immortalized, or maybe you can temporarily name a conference room after someone. It's a "money can't buy" gesture that can have a real impact on your people.  
2. Give them some time off
The only thing more valuable to your employees than their financial compensation is the time they get off of work. Whether it's for a trip, some personal time, or even just an extra day to spend with family and friends - vacation time is invaluable. So why not offer it up as a bonus? Something as simple as a day or two off after helping to deliver a huge project can be a big incentive. You can even go one step further by sponsoring part of their annual vacation - a personalized approach that shows employees how much you value their dedication. 
3. What about volunteering? 
Today's employees, especially those from younger generations, aren't just motivated by personal profit, they're motivated by purpose. Sometimes that comes from within your own organization and sometimes it's external, such as their support for a particular charity or cause. So if you're looking for inventive employee bonus ideas why not tap into that? You could, for example, reward high-performing teams with a paid day off to volunteer for a local charity. Not only is this a great incentive, but it can also help to boost morale and aid team building. The very definition of a win-win.
4. Say "thanks" with food
They say the way to our hearts is through our stomachs and that can really ring true with bonuses. At the smaller end of the spectrum, laying on a free lunch or a handful of pizzas as a bonus is a low-cost reward that can make a big impact. But on a personal level you can also use food to create a unique experience. Perhaps it's a voucher for an employee's favorite restaurant, or a gift card for their regular coffee spot, it could even be takeout vouchers that they can spend as and when they want to. Whatever their appetite, food is a simple way to make your bonuses memorable.
5. Make the most of merch
Most companies these days produce their own merch so why not leverage this when generating employee bonus ideas to boost engagement? It could be t-shirts or mugs, but whatever form they take, these branded items offer a simple, low-cost bonus solution that companies can tap into. Best of all, these bonuses can also help to build employee pride and loyalty, making them proud to wear your branding both inside and outside of the workplace.
6. Create a dream workspace
Is there a corner office in your HQ that has a spectacular view? Can you fill it with a luxuriously comfy chair, a well-stocked snack bar and a host of other amenities? If so, then you have the potential to create a dream workspace that's not designated to a specific person but as a rotating reward that can be shared among people as an employee bonus.
7. Switch up the hierarchy
Switching up the hierarchy is a great way to make your bonuses fun and to show your people that you truly appreciate their efforts. We've already mentioned an example where the CEO washes an employee's car, but there are so many ways to implement this award that the only limit is your imagination. Perhaps your C-suite serves your top-performing team their lunch every quarter, or one of the leadership teams does the weekly coffee run. Whatever you decide, this bonus will show your people how much their efforts matter to management.
8. The personal touch
Don't underestimate the power that personalisation can have on your employees. The personal touch can go a long way to making your bonuses have an added impact. One way to make your employee bonuses personalized is to combine them with a thank you video from the C-suite that's shared with the entire company, or even having the bonus hand-delivered by them.
You can even personalize the bonus itself. For example, if your employee loves sports, why not get them tickets to see their favorite team? Or if they're into their food, you could reward them with a cooking class rather than cold hard cash. Personalized incentive ideas for employees are powerful motivators and the key is to show your employees that you recognize them as individuals rather than simply cogs in the machine.
9. Something everyone can share
Bonuses that reward whole teams with activities are not only great incentives but they can also help to increase team bonding. It could be something as simple as a fully paid team night out, or something a little more creative like a paintballing experience or an art class - but whatever you choose team bonuses can serve a valuable dual purpose.
10. Make it healthy
Nothing is more important than your employees' health. In the current climate, organizations are increasingly switching on to the impact of wellbeing and offering incentives and programs that help to keep their people healthy. Why not incorporate your bonuses as part of this activity? Gym memberships, workout gear and even healthy eating delivery schemes make for brilliant rewards that also happen to be healthy. Wellbeing and health bonuses are great office incentive ideas that can help get everyone involved in making healthy decisions and improving their wellbeing.
11. Tuition Reimbursement
Tuition reimbursement is an excellent benefit that can encourage employees to return to school or obtain advanced training and certifications. This is actually a benefit to your organization as well because it helps current employees gain new knowledge and skills that transfer to their current position or help them become more qualified for other roles within the company. It can also help your company attract and retain talented, motivated workers.
12. Student Loan Repayment
Student loan repayment plans can be a significant draw for employees. Student loan repayment bonus ideas for employees not only provide financial incentives and benefits for individuals, it creates goodwill for your organization. These types of benefit programs can give you an advantage over your competitors when trying to attract new talent, especially those that have many options.
13. Adoption Assistance
Adoption assistance is not as likely to be used by many employees compared to other benefits and perks, but it is highly beneficial to those who need it. It also provides the chance for your organization to express consideration and compassion for employees and their community. The benefits can include any combination of financial assistance, information or referral services, and additional leave. This is an excellent benefit for showing that your organization supports family culture.
14. Covered Parking Spot
That coveted parking spot can be an excellent motivator for fun competitions or employee of the month, especially if your employees use busy parking lots or have to park in sunny or stormy areas. Whether it's the spot closest to the door or the best covered parking spot, having the best parking spot is prized by many. You can even make a little sign or plaque for the lucky recipient with their name on it.
15. Professional Development
Many employees rank professional development and career advancement highly when it comes to job satisfaction. Employees want to know that their hard work is worth the effort and that they have a real opportunity to advance within the company. Providing opportunities for growth and expressing a commitment to your employees' career development can contribute to higher job satisfaction and employee engagement because they know they are supported. This can be in the form of peer mentoring programs, professional development seminars, or management training programs. These opportunities show that you recognize them as a valuable contributor to your team and makes it one of the most meaningful employee bonus ideas to incorporate for employees looking for career advancement.
Conclusion
At the end of the day, one of the most important things you can do as an employer is show your people that you care about them. As we've explored in this article, bonuses are a great way to not only incentivize your team but to thank them for a job well done. By investing in your employees and offering them an opportunity to share in your success you can boost engagement, raise productivity and ensure that you retain more of your top talent.
While they are an effective tool, employee bonuses and our employee bonus ideas, are just a piece of a bigger puzzle. Bonuses can offer an excellent incentive that encourages your employees to perform to the best of their abilities. But to truly have an impact on your organization they have to operate as part of a comprehensive recognition and rewards program that helps to ensure your employees are engaged and invested in your ongoing success. 
That's where Bucketlist can help. Our employee rewards program is customizable to your business, making it easy and fun for managers to recognize and reward your people's milestones, achievements and hard work.
To find out more visit https://bucketlistrewards.com/product. Alternatively, you can contact us for a free demo to find out how Bucketlist's employee reward and recognition software can help you keep your workers happy and engaged.